Unified Building Group's Facilities Management
division is responsible for the overall physical development, preventive and life cycle maintenance for your entire real estate portfolio.

Unified's team is dedicated to ensuring your project continues to meet the ongoing needs of your day-to-day operations. We're experts at maintaining buildings, grounds and physical infrastructure in a cost-efficient, safe and environmentally sound manner.

Unified provides your organization one company for as many services you may need. We currently manage thousands of properties for americas mission critical and health care infrastructure in 31 states. Our facilities management team provides a diverse scope of services 24 hours a day, 7 days week, 365 days a year.
As buildings and their infrastructure continue to age faster than ever due to neglect of preventative maintenance and weather intensity, maintenance is increasingly important.

Our maintenance teams are equipped to perform maintenance repairs on a variety of structures and disciplines including but not limited to
Commercial Retail and Malls
Corporate Real Estate
In-Line Amplification (ILAs)
Wireless Shelters or Huts
Monopoles
Guyed/Self-Support Towers
Rooftop Units
Generators

Our nationwide resources can provide long term life cycle preventative maintenance programs, on demand services, or urgent one-time issues that may arise as a result of a routine inspection.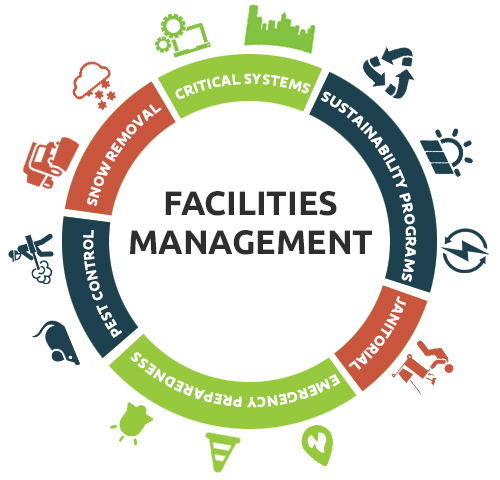 Need further information or have questions?
---
From corporate office space to mission critical facilities, industrial, manufacturing and educational facilities, UBG's Facilities Management team is determined to consistently provide the safest, most efficient and cost-effective work environments for your organization.

---
UBG facilities Management professionals execute best practices to create and maintain the delivery of superior Facilities Management services. We believe we are an integral part of our client's organization to add value based upon our teams expertise and industry knowledge, and the use of our technology partners. We will work with you to understand your business needs and how each facility aligns with your company's overall goals. UBG services will increase efficiencies across your entire portfolio.
Our platform covers the full range of services, including:
Critical systems management

Grounds Maintenance

Snow Removal

Pest Control

Sustainability programs Energy management & procurement

Emergency preparedness/business continuity planning

Proactive/predictive maintenance

Engineering & maintenance services (mobile)

Housekeeping and janitorial services

Moves, adds and changes Staff optimization and development

Vendor contract administration compliance & regulatory management

Environment, health & safety Business support service Security services
Back to Facility Services
We're ready for your next project.
Whether you're looking for an estimate, would like to solve a problem, or just want to let us know how we did, you'll find a few ways to contact us right here.