Our experienced nationwide team provides construction solutions every day, allowing you to focus on the areas affecting your firm's core business. We build trust through transparency, teamwork and execution.   Unified Building  Group provides true turn-key solutions that starts at real estate site selection and acquisition, through design, engineering, preconstruction, construction management, systems integration, program management to complete life cycle and facilities management.
Our Team
Our team provides you with direct access to the most highly qualified, trained professionals in the industry, with specialized expertise in various areas of New Construction, Tenant Improvement, including Mission Critical Operations, Budgeting & Financial Management, Sustainability Programs, Facilities Management, Energy Management and Procurement.  We are committed to employing the industry's best and brightest, embracing their passion, creativity and ideas.  
Saving Money
Unified's extensive nationwide project database contains real time and historical construction costs that allow us to examine proposed design solutions and provide immediate cost feedback.  Our database is updated utilizing BNI, RS Means and real time data comparing industry and market averages allowing us to compare and establish goals from concept for projects similar to yours in size, scope and complexity.
Technology
UBG uses integration with the most advanced technology platforms and tech partners to help you increase efficiency, reduce costs, and increase accurate responsiveness.  Unified empowers our project teams in the field with financial tools and daily reporting for our customers to ensure we achieve project goals.  Our daily field reporting, qualification of subcontractors and material status reporting provides the project team and mangement with a method of qualifying, tracking purchases, shop drawings, submittals, material delivery and subcontracor quality control installation processess.  We dont wait for month end to know "if" projects are preforming.  We provide our clients and field teams powerful, simple tools for tracking and recording impacts in real time.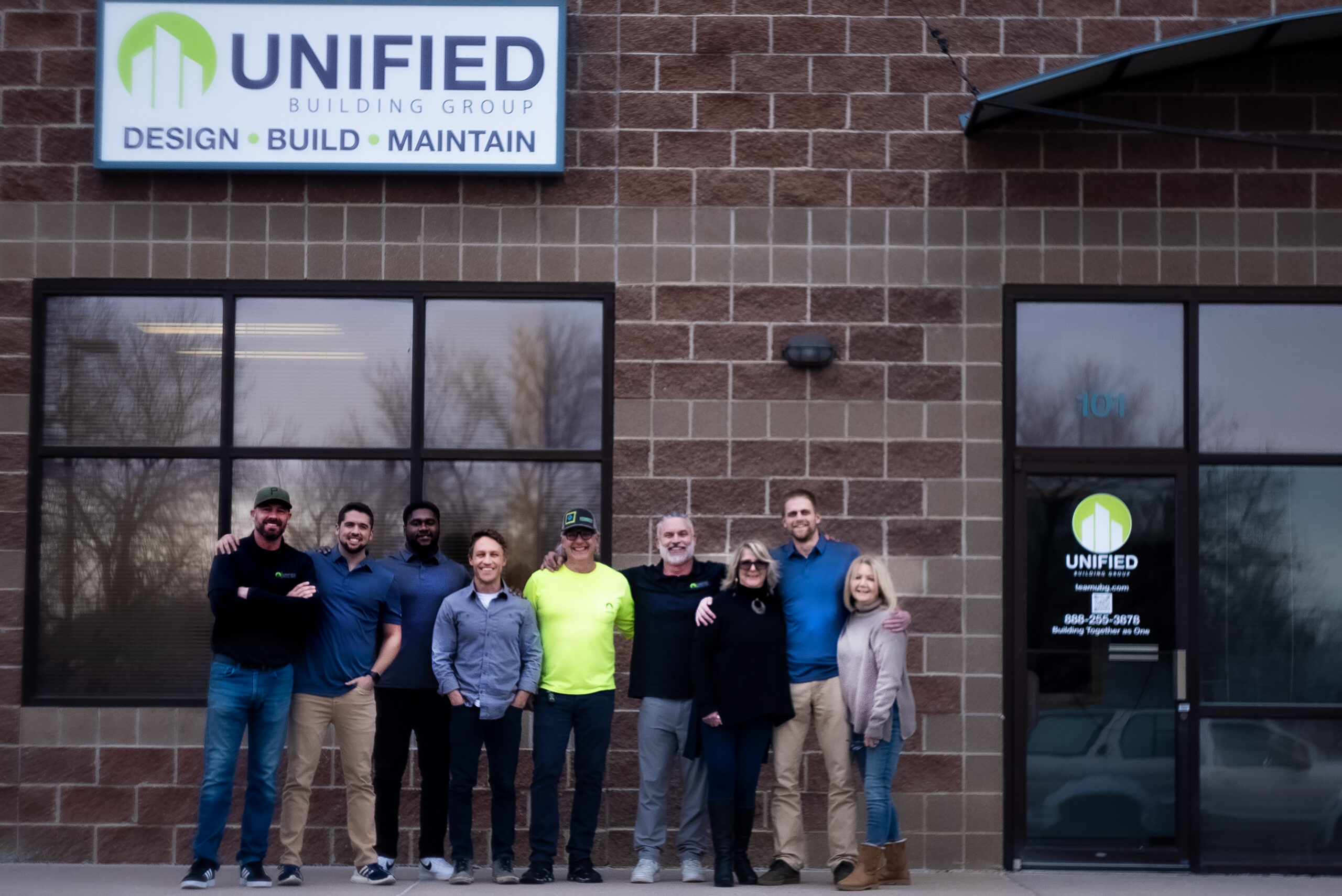 Head-quartered in Boulder, Colorado, Unified Building Group (UBG) is a nationally licensed construction company that specializes in both new and renovation projects of all sizes and types. Our core capabilities ranges from, pre-construction, construction management, design build to complete building lifecycle facilities management and maintenance.
Get Started
Energy management and sustainability programs
A cleaner earth is a better earth. We thrive in helping you with your environmental objectives by tailoring our comprehensive, multi-faceted program to your specific needs. Which often results in significant reductions in energy, waste and water usage. Environmentally conscious -We love utilizing innovative construction materials and repurposing reclaimed materials to build the most sustainable buildings possible with the smallest environmental impact.
Procurement programs
Our programs leverage our nation-wide portfolio to achieve better-than-market rates for facility management-related goods and services.
Technology and Innovation is in our SOUL
COMMUNICATION = SUCCESS
We understand that defining a common communication platform in today's environment is more important than ever. We all communicate and understand technical information differently.
Early detection and resolution of potential construction conflicts in communication saves time and money EVERY project.
CONSTRUCTION MANAGEMENT /VIRTUAL DESIGN AND CONSTRUCTION/BUILDING INFORMATION MODELING VDC/BIM
Benefits:
• Evaluate the design early on in the process to review constructability of the project, as well as means and methods for construction feasibility
• Review and ensure code compliance, value engineering, schedule, and quality
• Logistical planning for construction of the building
• Verify design is made to fulfill targeted cost and schedule
• Discover inaccuracies and/or omissions in the design and construction documents
• Increase safety by reducing rework
• Understand the project better and in more detail
• Allow ease of tenant up-fits and improvements using 100% accurate as-builts Virtual Design and Construction (VDC) allows an organized and coordinated process for construction and project delivery.
UBG offers a variety of construction management technologies including Building Information Modeling (BIM) technology to optimize document coordination, provide early detection of constructability conflicts, and serve as a living record-keeping tool for your ongoing building operations
We're ready for your next project.
Whether you're looking for an estimate, would like to solve a problem, or just want to let us know how we did, you'll find a few ways to contact us right here.